Farm buildings include management and staff housing, offices, kitchen, canteen, workshop and ablutions.
Whether the project calls for a farm housing building, offices or storage facilities, Z-imba Buildings are built easier and more cost-effective than standard types of buildings. Where the proper soil conditions exist, structures can be built one a floating slab, saving time and money.
Z-imba is the best choice for any construction solution that requires staff housing, ablutions, canteens, and storage facilities. Z-imba buildings are durable and adaptable enough for any structures.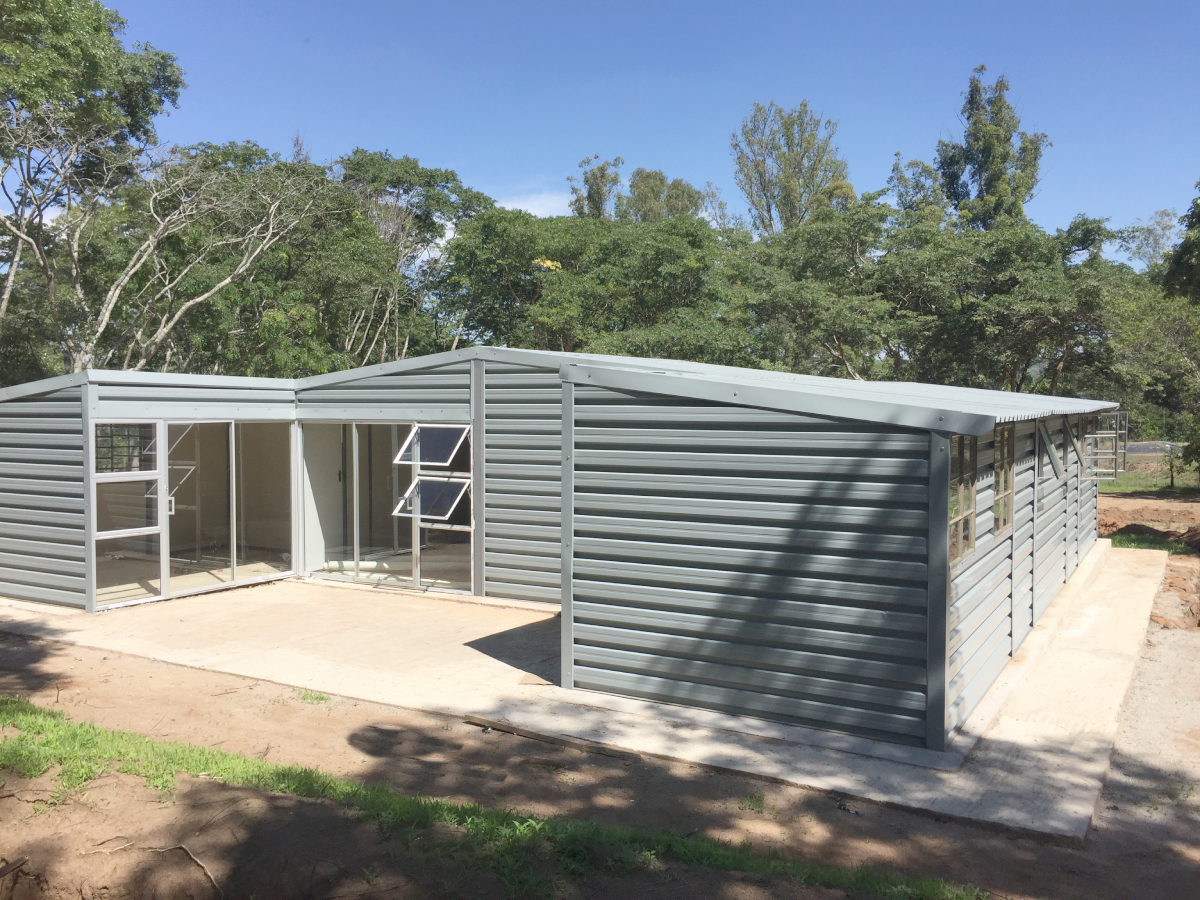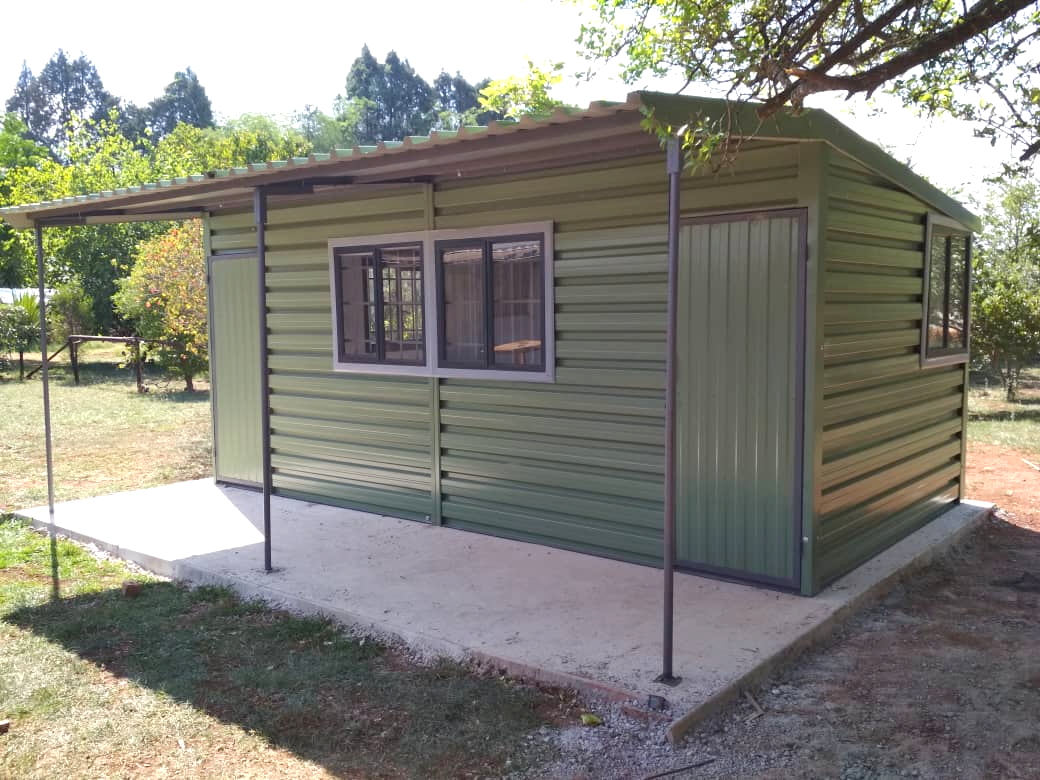 Modular, Relocatable Design –
Disassemble, move or completely reconfigure. Ideal for multi-use applications With limited foundation requirements, energy-efficient insulation packages, and rapid construction, the possibilities for farm buildings with Z-imba are endless. Z-imba Buildings is ideal for farms looking for a reliable structural solution that can be built easily and efficiently in remote conditions and within a short time period.
Standard four cubicle ablution
Code: PA.5
Total building dimension 5.6M(L)x2.8M(W)
Mono-pitched roof
Roof height 2.45 M at front and 2.11 M at rear
3 x Z-imba steel single entry doors
7 x NE1 Windows
Standard six cubicle ablution with laundry area
Code: PA.6
Total building dimension 11.2M(L)x2.8M(W)
Mono-pitched roof
Roof height 2.45 M at front and 2.11 M at rear
4 x Z-imba steel single entry doors
10 x NE1 Windows
Standard eight cubicle ablution
Code: PA.7
Total building dimension 11.2M(L)x2.8M(W)
Mono-pitched roof
Roof height 2.8 M at front and 2.45 M at rear
5 x Z-imba steel single entry doors
14 x NE1 Windows
Eight rooms divided with half veranda
Code: PB.4
Total building dimension 11.2M(L)x8.4M(W)
Gable roof
Roof height 2.8 M at apex and 2.8 M at eaves
8 x Z-imba steel single entry doors
16 x C2H Windows
10 rooms divided with half veranda
Code: PB.5
Total building dimension 14M(L)x8.4M(W)
Gable roof
Roof height 2.8 M at apex and 2.28 M at eaves
10 x Z-imba steel single entry doors
10 x C2H Windows
6 rooms with ablution
Code: PB.6
Total building dimension 15.4M(L)x7.2M(W)
Gable roof
Roof height 2.8 M at apex and 2.28 M at lowest eaves
2 x Z-imba double steel door
10 x Z-imba steel single entry doors
14 x C7H Windows
9 x NE1 Windows
One bedroom with half veranda
Code: PD.1
Total building dimension 5.6M(L)x4.2M(W)
Gable roof
Roof height 2.45 M at apex and 2.11 M at lowest eave
2 x Z-imba steel single entry doors
2 x C2H Windows
1 x NE1 Window
One bedroom with veranda
Code: PD.2
Total building dimension 5.6M(L)x5.6M(W)
Gable roof
Roof height 2.45 M at apex and 2.11 M at eaves
3 x Z-imba steel single entry doors
3 x C2H Windows
1 x NE1 Window
One bedroom cottage with veranda
Code: H.3
Total building dimension 8.4M(L)x5.6M(W)
Gable roof
Roof height 2.45 M at apex and 2.11 M at eaves
1 x Double french door
2 x Z-imba steel single entry doors
9 x C2H Windows
2 x NE1 Window
Basic staff canteen
Code: PF.1
Total building dimension 9.8M(L)x5.6M(W)
Gable roof
Roof height 2.45 M at apex and 2.11 M at eaves
3 x Z-imba steel double doors
7 x C7H Windows
4 x NE1 Windows
1 x Serving hatch
1 x Tornado vent
Kitchen and canteen
Code: PF.2
Total building dimension 9.8M(L)x5.7M(W)
Gable roof
Roof height 2.8 M at apex and 2.45 M at eaves
2 x Z-imba steel double entry double doors
2 x Z-imba steel single entry double doors
13 x C7H Windows
1 x NE1 Window
1 x Serving hatch
Staff kitchen and canteen
Code: PF.3
Total building dimension 9.8M(L)x5.6M(W)
Gable roof
Roof height 3.25 M at apex and 2.5 M at eaves
3 x Z-imba steel double entry doors
6 x C2H Windows
1 x Serving hatch
1 x Tornado vent
Open plan two rooms with veranda
Code: PE.1
Total building dimension 5.6M(L)x4.2M(W)
Gable roof
Roof height 2.45 M at apex and 2.11 M at lowest eave
1 x Z-imba steel single entry doors
3 x C2H Windows
Two rooms office with glass and aluminium sliding door
Code: PE.2
Total building dimension 8.4M(L)x4.2M(W)
Gable roof
Roof height 2.45 M at apex and 2.11 M at lowest eave
1 x Glass and aluminium sliding door
1 x Z-imba steel single entry doors
3 x C2H Windows
Two rooms office with half veranda
Code: PE.3
Total building dimension 8.4M(L)x5.6M(W)
Gable roof
Roof height 2.8 M at apex and 2.28 M at eaves
2 x Z-imba steel single entry doors
10 x C2H Windows
One room with double door
Code: A.2
Total building dimension 9.8M(L)x5.6M(W)
Mono-pitched roof
Roof height 2.45 M at front and 2.11 M at rear
1 x Z-imba steel double entry door
1 x C2H Windows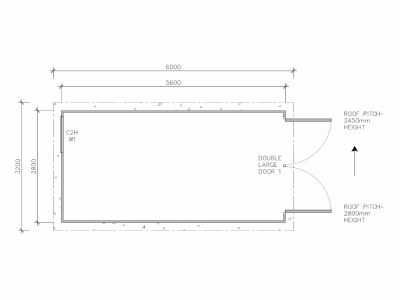 Two rooms with large double door
Code: C.3
Total building dimension 5.6M(L)x2.8M(W)
Mono-pitched roof
Roof height 2.45 M at front and 2.11 M at rear
1 x Z-imba steel large double doors
1 x C2H Windows
Four rooms side-by-side open plan
Code: H.4
Total building dimension 11.2M(L)x2.8M(W)
Mono-pitched roof
Roof height 2.8 M at front and 2.45 M at rear
1 x Z-imba steel double entry door