Safari buildings include guide housing ,staff housing, offices, kitchen, canteen, workshop and ablutions.
Rapidly Deployable Safari Camps
For many types of safari camps our chromadek colours and panel design can be completed in weeks. Z-imba Buildings are rapidly deployable structures that are cost-effective, highly durable, and designed to withstand extreme weather.
If you thought Z-imba buildings are only known for our rapidly deployable buildings and ability to relocate, we're also famous for our ability to produce back of the house, safari facilities. These buildings are designed to fit your business needs and engineered to endure any weather conditions.
Flexible, easily relocatable and reliable, Z-imba buildings are superior quality structure that accommodate multi-purpose applications at a lower overall cost than traditional construction, and impart a variety of added bonuses like a already to move in building with customizable insulation options.
Z-imba Buildings provides a better return on investment, thanks to low construction costs, quick build capabilities and lower operating costs 
Standard four cubicle ablution
Code: PA.5
Total building dimension 5.6M(L)x2.8M(W)
Mono-pitched roof
Roof height 2.45 M at front and 2.11 M at rear
3 x Z-imba steel single entry doors
7 x NE1 Windows
Standard six cubicle ablution with laundry area
Code: PA.6
Total building dimension 11.2M(L)x2.8M(W)
Mono-pitched roof
Roof height 2.45 M at front and 2.11 M at rear
4 x Z-imba steel single entry doors
10 x NE1 Windows
Standard eight cubicle ablution
Code: PA.7
Total building dimension 11.2M(L)x2.8M(W)
Mono-pitched roof
Roof height 2.8 M at front and 2.45 M at rear
5 x Z-imba steel single entry doors
14 x NE1 Windows
Eight rooms divided with half veranda
Code: PB.4
Total building dimension 11.2M(L)x8.4M(W)
Gable roof
Roof height 2.8 M at apex and 2.8 M at eaves
8 x Z-imba steel single entry doors
16 x C2H Windows
10 rooms divided with half veranda
Code: PB.5
Total building dimension 14M(L)x8.4M(W)
Gable roof
Roof height 2.8 M at apex and 2.28 M at eaves
10 x Z-imba steel single entry doors
10 x C2H Windows
6 rooms with ablution
Code: PB.6
Total building dimension 15.4M(L)x7.2M(W)
Gable roof
Roof height 2.8 M at apex and 2.28 M at lowest eaves
2 x Z-imba double steel door
10 x Z-imba steel single entry doors
14 x C7H Windows
9 x NE1 Windows
One bedroom with half veranda
Code: PD.1
Total building dimension 5.6M(L)x4.2M(W)
Gable roof
Roof height 2.45 M at apex and 2.11 M at lowest eave
2 x Z-imba steel single entry doors
2 x C2H Windows
1 x NE1 Window
One bedroom with veranda
Code: PD.2
Total building dimension 5.6M(L)x5.6M(W)
Gable roof
Roof height 2.45 M at apex and 2.11 M at eaves
3 x Z-imba steel single entry doors
3 x C2H Windows
1 x NE1 Window
One bedroom cottage with veranda
Code: H.3
Total building dimension 8.4M(L)x5.6M(W)
Gable roof
Roof height 2.45 M at apex and 2.11 M at eaves
1 x Double french door
2 x Z-imba steel single entry doors
9 x C2H Windows
2 x NE1 Window
Basic staff canteen
Code: PF.1
Total building dimension 9.8M(L)x5.6M(W)
Gable roof
Roof height 2.45 M at apex and 2.11 M at eaves
3 x Z-imba steel double doors
7 x C7H Windows
4 x NE1 Windows
1 x Serving hatch
1 x Tornado vent
Kitchen and canteen
Code: PF.2
Total building dimension 9.8M(L)x5.7M(W)
Gable roof
Roof height 2.8 M at apex and 2.45 M at eaves
2 x Z-imba steel double entry double doors
2 x Z-imba steel single entry double doors
13 x C7H Windows
1 x NE1 Window
1 x Serving hatch
Staff kitchen and canteen
Code: PF.3
Total building dimension 9.8M(L)x5.6M(W)
Gable roof
Roof height 3.25 M at apex and 2.5 M at eaves
3 x Z-imba steel double entry doors
6 x C2H Windows
1 x Serving hatch
1 x Tornado vent
Open plan two rooms with veranda
Code: PE.1
Total building dimension 5.6M(L)x4.2M(W)
Gable roof
Roof height 2.45 M at apex and 2.11 M at lowest eave
1 x Z-imba steel single entry doors
3 x C2H Windows
Two rooms office with glass and aluminium sliding door
Code: PE.2
Total building dimension 8.4M(L)x4.2M(W)
Gable roof
Roof height 2.45 M at apex and 2.11 M at lowest eave
1 x Glass and aluminium sliding door
1 x Z-imba steel single entry doors
3 x C2H Windows
Two rooms office with half veranda
Code: PE.3
Total building dimension 8.4M(L)x5.6M(W)
Gable roof
Roof height 2.8 M at apex and 2.28 M at eaves
2 x Z-imba steel single entry doors
10 x C2H Windows
One room with double door
Code: A.2
Total building dimension 9.8M(L)x5.6M(W)
Mono-pitched roof
Roof height 2.45 M at front and 2.11 M at rear
1 x Z-imba steel double entry door
1 x C2H Windows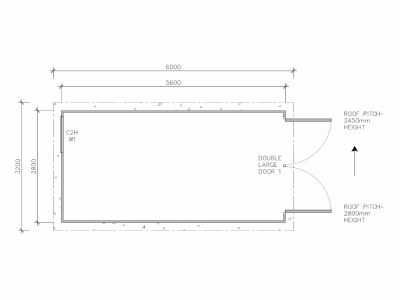 Two rooms with large double door
Code: C.3
Total building dimension 5.6M(L)x2.8M(W)
Mono-pitched roof
Roof height 2.45 M at front and 2.11 M at rear
1 x Z-imba steel large double doors
1 x C2H Windows
Four rooms side-by-side open plan
Code: H.4
Total building dimension 11.2M(L)x2.8M(W)
Mono-pitched roof
Roof height 2.8 M at front and 2.45 M at rear
1 x Z-imba steel double entry door