CG Sunports is a leading manufacturer of quality shade structures. We have a reputation for excellence, quality and service build since our incorporation in 1989.
All of our sunports can have:
Additional bays added on either side-by-side or back-to-back in order to cover the number of vehicles required.
Shade cloth is 90% UV resistant and has a 10 year manufacturer's warranty against UV degradation.
We have a wide range of shade cloth colours available and offer customisable steelwork colours.
Free Standing Cantilever
The cantilever legs are bolted on top of reinforced foundation bases which are concreted  1.6m deep into the ground.
SINGLE (1 Parking) 2.5x5m
DOUBLE (2 Parkings) 5x5m
TRIPLE (3 Parkings) 7.5x5m
Wall Mount
Our wall mounts are connected through the wall to provide extra support.
SINGLE (1 Parking) 2.5x5m
DOUBLE (2 Parkings) 5x5m
TRIPLE (3 Parkings) 7.5x5m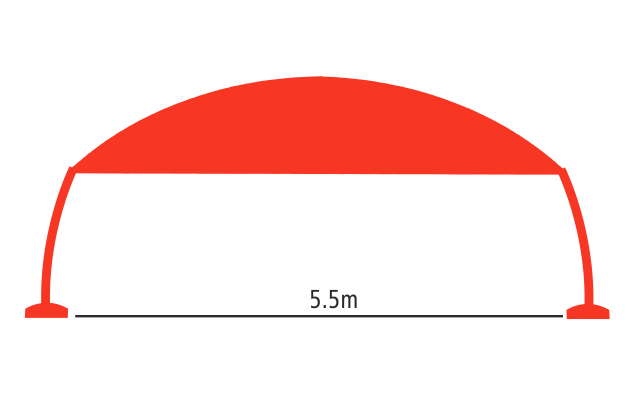 Moveable
Our moveable sunports have 4 round external concrete bases which allow for them to be easily moved.
SINGLE (1 Parking) 2.8×5.8m
DOUBLE (2 Parkings) 5.8×5.8m
Four Poster
The four poster has 4 legs concreted into the ground for added structural strength
SINGLE (1 Parking) 2.5x5m
DOUBLE (2 Parkings) 5x5m
TRIPLE (3 Parkings) 7.5x5m
Have a Project in Mind?
Let's Get Building!
Eco Friendly Construction
Our Sunports come in component form and minimal foundations, the environmental damage is kept to a minimum.  
Steel is painted To Insure a Longer Lasting Product
Our Sunports are made to last the test of time. Using paint to prevent rust 
Low Maintenance Cost
All our Sunports come standard with the customers required colour of paint to help stop rust. 
Is the shade cloth water proof?
The shade cloth is not waterproof but the pitch of the roof and the fine stitching allows

Most of the water to run off.
What happens if the structures are damaged during bad weather conditions?
Natural occurrences such as storm or wind damage are excluded from our guarantee

and must be covered by the customer's property insurance.
What is the warranty period for a sunports structure?
We guarantee our sunports shade cloth for 7 years and our installations for

3 years from the date of commissioning.
What maintenance is required for the structures?
Repainting should be carried out on the steelwork every 2 years to prevent corrosion.
What happens if a pipe or cable is damaged during installation?
The ground at the site must be free of any obstacles such as water pipes or

electricity cables, which may inhibit the team. These must be shown to us before work

commences and we will not take any responsibility for damage caused.